---
HOSTELS
The student admitted to the College shall be provided Hostel accommodation subject to its availability, otherwise they have to make their own arrangement. There are Four hostels (three for boys and one for girls).

Hostel No. 1: Boys
Hostel No. 2: Boys
Hostel No. 4: Girls
Hostel No. 5: Boys(For first year students)

All basic amenities & service are provided in these hostels. These are well equipped with Geysers, Washing Machines, and Water Purifiers. The mess in each hostel has air-cooled and spacious dining hall. Each hostel has a common recreation room with Dish TV, Indoor games, Magazines & Newspapers. Internet facility (Wi-Fi) is provided in each of the hostels. There is a Centralized Computer facility in the Girls hostel. An ambulance is available in case of medical emergency. CCTV Cameras & backup power supply facility is also available in all the hostels. Each hostel has a Warden to ensure implementation of discipline and creating an atmosphere that is conducive to learning.
---
HOSTEL ADMINISTRATION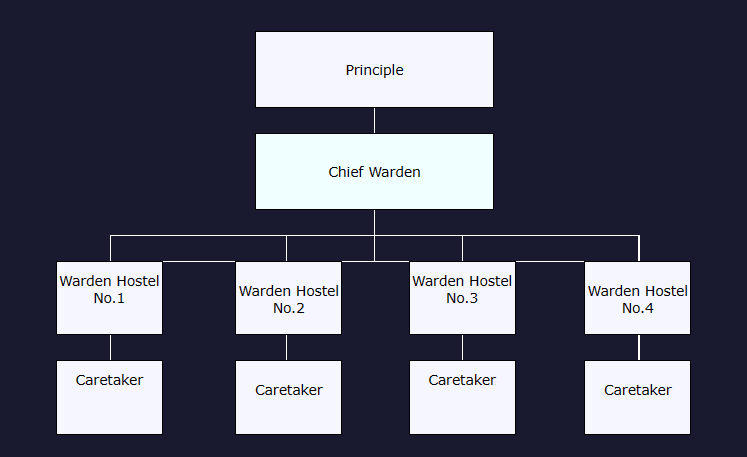 ---

Hostel Rules

1.Ragging in any form in the hostel/institute is illegal and banned as per an act of Govt. of India.
2.Parents are advised to keep constantly in touch with Institute/hostel authorities regarding performance of their wards.
3.Indiscipline of any kind including fighting in the hostel premises will be sternly dealt with and severely penalized.
4.Chief Warden/Warden/Caretaker or the Institute authorities can inspect any room at any time.
5.It is the discretion of the Chief Warden/Warden to allot/not to allot a room/accommodation to the student on the basis of his/her previous record in the hostel/institute.
6.Room once allotted, will not be changed without any proper and genuine reason.
7.The students shall be responsible for the items issued to them or provided in the hostel. Damage to any hostel property shall be recovered from the students.
8.Moving the hostel property (bed, chair, etc.) from the room is not allowed.
9.Any type of markings on hostel inventory/walls etc. will be treated as an act of indiscipline.
10.Weapons/Rods or any other gadget which can be used as weapons are not allowed in hostel and any student found keeping weapon shall be liable for expulsion from the hostel as well as the institute.
11.Smoking, Drinking Liquor, Drugs & Narcotics and other toxic substance of any kind is strictly prohibited in the institute/hostels.
12.Student(s) having chronic/communicable disease(s) are not allowed to stay in hostel(s) without the prior recommendation of Institute Medical Officer/Institute Authorities.
13.Meetings, seminars or gatherings are not permitted in the hostel/campus without permission of the Warden/Chief Warden.
14.Always keep your almirah and room locked even when you go out of the room for a short period. The institute will not be responsible for any loss, damage or theft of personal belongings.
15.Switch off the lights, fans, etc. while leaving the room. Close all water taps after use to avoid water wastage.
16.Entry of two wheelers and four wheelers is strictly prohibited in the hostel.
17.The hostlers are not permitted to leave campus without permission and are not allowed to stay outside their hostel after timings given below:
18.The hostlers are allowed to leave the hostel on holidays after putting the necessary entry in the hostel movement register available in respective hostel with hostel Caretaker/Security Guard.
19.Students are required to follow mess/common room/Internet room/TV room timings strictly.
20.Students must dine in their respective hostel messes only.
21.Students are required to come in the hostel mess in proper dress.
22.Mess manager shall have to be informed at least 12 hours in advance in case a hostler does not want to take meal(s). Permanent off for any type of meal(s) (except medical cases) by students is not permitted. The same shall be followed strictly in each hostel.
23.Mess dues (bill) should be cleared up to the end of each month; otherwise, a fine shall be charged, and strict action against the defaulter shall be taken by the hostel authority after the due date.
24.Mess dues should not exceed the security deposit amount; otherwise, this will lead to the closure of the Mess account of the concerned student, and the student will have to vacate the hostel room.
25.If any room is found in a messy unhygienic state, occupants will be fined.
26.Rs. 300 per month shall be charged extra for keeping the desert cooler in the hostel room with the prior permission of the hostel authorities.
27.Guests are not permitted to reside in the boys' hostel without the payment of proper rent and permission of Chief Warden/ Warden/Care Taker. Gents are not allowed to stay in girls' hostel.
28.For obtaining hostel No Dues, the hostel No Dues form is issued by the caretaker of the respective hostel. Students are required to complete hostel No Dues formalities by obtaining the signature of respective Mess Manager, Caretaker & Warden.
29.For the release of refundable money/mess security, etc., students are required to put up the institute's final NO-DUES in the account section/mess account section within one year of pass-out. In case of expiry of the stipulated time, the refundable money/security should be forfeited.
30.If any student leaves his/her hostel and goes outside the campus, the institute will not be responsible for any undesirable incident.
31.Students are advised to go to the Institute doctor/dispensary staff or to the authorized doctor only in case of any health problem/emergency.
32.Any damage to the room furniture/any other hostel/Institute property shall be charged along with the fine from the concerned students/Hostel Students.
33.The hostellers shall keep their rooms, corridors, staircase, and bathrooms spotlessly clean and tidy at all times. Students found to be living untidy and unhygienically will be asked to leave the hostel.
34.For any problem regarding hostels, contact your Caretaker/Warden(s)/Chief Warden/Dean (Welfare).
35.It is mandatory for the students to open the mess account in the hostel mess to avail the hostel room facility.

---

HOSTEL AND MESS CHARGES

HOSTEL AND MESS CHARGES FOR
HOSTEL NO. 1,2,4
At the time of admission*
HOSTEL & MESS CHARGES
FOR NEW HOSTEL NO. 5
(For the first year students)
At the time of admission*
FIRST/ODD
SEMESTER
SECOND/EVEN
SEMESTER
FIRST/ODD
SEMESTER
SECOND/EVEN
SEMESTER
3/4 SEATER ROOMS
[A] PAYABLE HALF YEARLY
17813.00
17813.00
20177.00
[B] ONE TIME PAYMENT
1200.00
1200.00
[C] SECURITY (REFUNDABLE)
12000.00
12000.00
GRAND TOTAL (A+B+C)
31013.00*
33377.00*
1/2 SEATER ROOMS
[A] PAYABLE HALF YEARLY
18663.00
18663.00
[B] ONE TIME PAYMENT
1200.00
[C] SECURITY (REFUNDABLE)
12000.00
GRAND TOTAL (A+B+C)
31863.00*
---
HOSTEL MESSES
All messes of hostels are governed by the mess council. Meeting of mess council is held once in a semester to discuss various issues related to mess. Following are the members of the mess council:

HOSTEL MESSES ORGANIZATION CHART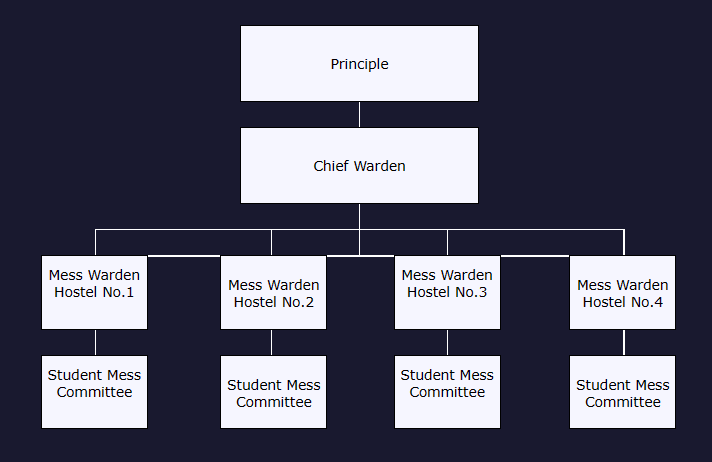 ---
HOSTEL CLUB
Each hostel has a club/common recreation room for the entertainment of students and indoor sports activities. Various sports activities like Chess, Badminton, Table Tennis, etc. are organized once in a semester inside the hostel club/recreation room.
HOSTEL CLUB ORGANIZATION CHART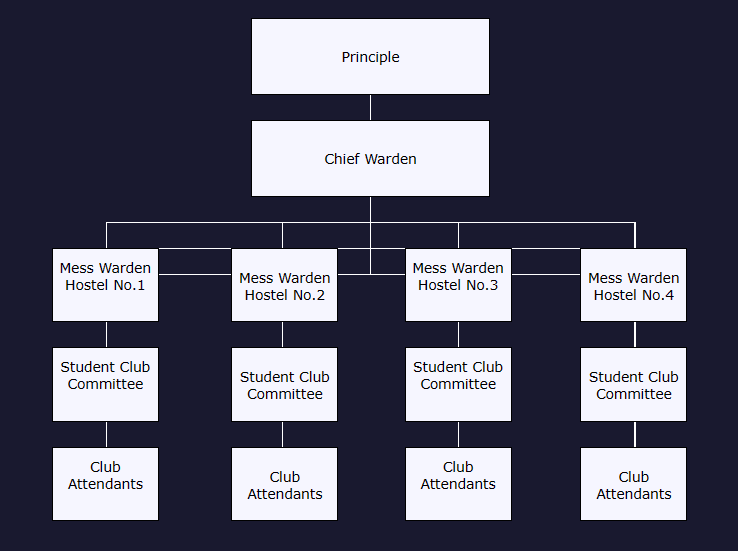 ---
IMPORTANT TELEPHONE NUMBERS
Name
Designation
Phone Number
Dr. Puneetpal Singh
Chief Warden
97818-16320
Prof. Manpreet Singh Sidhu
Warden, Hostel No. 1
84277-11011
Prof. Sukhjeet Singh
Warden, Hostel No. 2
62392-79237
Dr. Gurpurneet Kaur
Warden, Hostel No. 4
99888-25855
Mr. Suminder Singh (DPE)
Warden, Hostel No. 5
97790-03011
Dr. Inderjeet Singh
Doctor (Dispensary)
94642-92648
Miss. Navjot Kaur
Pharmacist (Dispensary)
99152-92590
Mr. Bhupinder Singh
Security Officer
97810-00257
Mr. Iqbal Singh
Caretaker (Hostel No. 1)
(Additional Charge)
88375-48016
Mr. Bikramjit Singh
Caretaker (Hostel No. 2)
(Additional Charge)
97806-12890
Mrs. Gurpreet Kaur
Caretaker (Hostel No. 5)
99143-61995
Mr. Gurdev Singh
Caretaker (Hostel No. 5)
99143-61995